Home
Machine Tools
Foundry
Reference Information
email
I recently ran across a great deal on a 7" Southbend shaper that I couldn't pass on. The picture below shows it setup just after I received it. Not exactly colour coordinated but it is in reasonable working condition. The only problem that I want to address right away is the crossfeed screw. This is the screw that moves the table left/right. It has a very slight bend in it at the handle end just outside of the cross rail. It seems to work OK but it binds slightly as it turns. It will work for now until I get a chance to do something about it. I will likely tear it down at that time and have a closer look at everything as well as repaint it.
For those who are unfamiliar with shapers let me try to explain. Basically, while a lathe turns the work round, a shaper shapes work straight or flat. A lathe grips and spins the work while the tool is moved into the work piece, a shaper holds the work to a table or vise which is then moved into position with the cutter. The cutting action is done by a toolbit which is attached, via a holder to the ram (the cream coloured piece on my shaper below), which cycles back and forth over the work. It allows you to use cheap lathe style tool bit to cut flat metal (in contrast to a mill which uses expensive endmills to cut flat metal). It excels at cutting such things as keyways and dovetails.
I would recommend that anyone interested in more information on metal shapers consider joining the Metal_Shapers email list. A lot of people on the list with good information as well as the information in the files section. That is where I found a manual for my shaper. It is published by the US Army and as far as I'm aware is in the public domain so you can either download it here or get it from the files section of the Metal_Shapers group. To save the file just right click on it and then save it to your computer.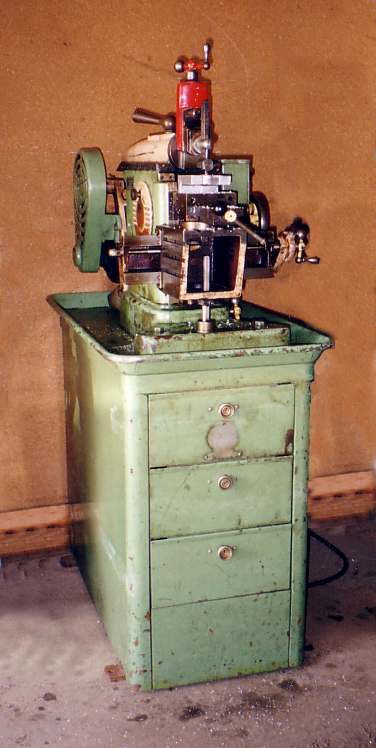 Specifications
RAM
Length of Ram Stroke
0 to 7"
Strokes per Minute, approximate
42-75-120-195
Cutting Speeds, approximate
3 to 114 fpm
TOOL
Vertical Travel
3"
HEAD
Tool Post Takes Tool Holder Shank
3/8" x 13/16"
Swivels
360º
VISE
Width of Jaws
4"
Maximum Opening
4"
Depth of Jaws
1"
TABLE
Length of Top
6 5/16"
Width of Top
5"
Depth of Top
5 3/8"
Horizontal Travel
9 1/2"
Vertical Travel
5"
Distance from Ram
1/2" to 5 1/2"
Power Cross Feeds (reversible)
0.002" to 0.012"
Width of Slots
5/16"
Holes for Clamp Bolts
9/32"
MOTOR
Size Recommended
1/3 or 1/2 HP