Home
Work
email
First, a little about myself. I have my Canadian ATPL (Airline Pilot Transport Licence) and Canadian AME (Aircraft Maintenance Engineer) licence. I've worked in several locations in Canada, including Inuvik, Resolute Bay, Iqaluit, Ft. Simpson, Grande Prairie, Edmonton, and Toronto, as well as overseas, including Iraq, Pakistan, India, and Mauritania.
I'm currently working for WestJet Airlines flying the Boeing 737-700. The company also operates the 737-200 although they are being slowly phased out and to be replaced by the newer -700 series. I'd like to thank Bill Taylor for the picture below, taken in Puerta Vallarta, Mexico.


Boeing 737






-200
-700




Seats
Speed (mph/kph)
Range (miles/km)
120
495/792
2,600/4,184
140
540/866
3,800/6,115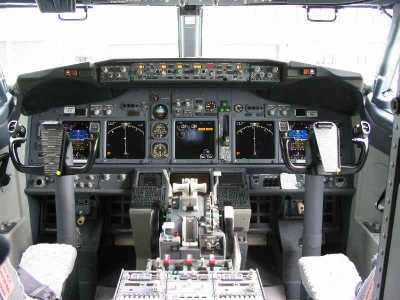 Boeing 737-700 cockpit
Before I came to WestJet I was working for Air Ontario which merged with Air Nova, Canadian Regional and Air BC to form Air Canada Jazz as a pilot based in Toronto, Ontario. Air Canada Jazz is an Air Canada connector airline. While working there I flew the DeHavilland DHC8, better known as the Dash 8. I would like to thank my friend Bolivar for these Dash 8 pictures
DeHavilland Dash 8


Seats
Payload (lbs/kg)
Speed (mph/kph)
Range (miles/km)
runway (feet/meters)
37-50
11,400/5,170
330/530
1,250/2,010
4,000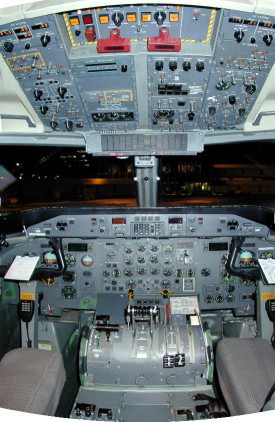 Dash 8 Cockpit
Prior to working at Air Canada Jazz I was working for Kenn Borek Air Ltd. The company is based in Calgary, Alberta, Canada. This work involved an interesting mix of charter, medevac, and scheduled flying, both domestically and internationally. I worked several contracts for Kenn Borek outside of Canada. The first was a UN observer mission in Iraq, UNIIMOG (United Nations Iran Iraq Military Observer Group), and I went as an AME for the DeHavilland DHC6 Twin Otter we had based in Baghdad. I was there for the tail end of the contract, arriving in October 1990 and leaving with the aircraft in January 1991 (we left Baghdad a matter of hours before Desert Storm started). Since I arrived at the mission after the blockade against Iraq had started most of the time I was there the only work we did was ferrying supplies for the UN to and from Larnaca, Cyprus. The next UN mission I was sent on was another observer mission, UNMOGIP (United Nations Military Observer Group India and Pakistan), as a pilot/AME on the Beechcraft BE10 King Air we had there. The company had an aircraft based in Islamabad for several years and I did several tours there ranging in length from 3 weeks to 6 months in length. For a short period while out of Pakistan I was on a contract as pilot/AME on a Piper T1040 based in Nouakchott, Mauritania for the UNHCR (United Nations High Commissioner for Refugees). We were mainly providing transportation to the various NGO's (Non Governmental Organizations) who were dealing with the Tuareg refugees from Mali.
Kenn Borek Air Ltd. also does a lot of work in Canada with bases in Calgary, Edmonton, Inuvik, Cambridge Bay, Resolute Bay, and Iqaluit. I spent quite a bit of time in Resolute Bay as an AME for the Twin Otter's the company supplied for the Polar Continental Shelf Project (PCSP). I was also based out of Iqaluit, mainly flying the King Air 200 and King Air 90 on medevacs with the odd charter and sched flight thrown in for variety. The charter flying was usually on the King Air 100. I also did some work out of Edmonton where we also had the medevac contract. The company also did a lot of charters out of Edmonton, mainly for the oil companies working in Northern Alberta. In Edmonton I flew the King Air 100 and the Bandeirante.
Below are pictures and specifications of some of the aircraft I've flown and/or performed maintenance on. Keep in mind that the specifications are only for general information, there are far too many variables to give exact numbers.


King Air 90


King Air 100
Seats
Payload (lbs/kg)
Speed (mph/kph)
Range (miles/km)
runway (feet/meters)
8
1,800/810
240/385
1,080/1,735
2,500/760


Seats
Payload (lbs/kg)
Speed (mph/kph)
Range (miles/km)
runway (feet/meters)
12
2,900/1,310
260/415
1,040/1,670
2,500/760








King Air 200


T1040
Seats
Payload (lbs/kg)
Speed (mph/kph)
Range (miles/km)
runway (feet/meters)
12
3,200/1,450
300/480
1,800/2,895
2,500/760


Seats
Payload (lbs/kg)
Speed (mph/kph)
Range (miles/km)
runway (feet/meters)
9
1,800/810
235/375
1,000/1,600
2,500/760








Twin Otter - Wheels


Twin Otter - Floats and Skiis
Seats
Payload (lbs/kg)
Speed (mph/kph)
Range (miles/km)
runway (feet/meters)
19
3,500/1,580
185/295
900/1,445
1,400/425






















Bandeirante






Seats
Payload (lbs/kg)
Speed (mph/kph)
Range (miles/km)
runway (feet/meters)
15
3,500/1,580
240/385
1,040/1,670
3,000/910